It is not that easy to open your own hair salon, which you obviously want to succeed. You need to prepare every little aspect of it and of course have some clear idea on how it should look like. As you know, today there are dozens or so hairdressing salons in every town or a city, so the competition is really big. To stick out from the crowd, takes a lot of hard work, time and of course money. However, it is definitely worth trying, as the final effect may satisfy not only us but also our clients.

What do you need?

While creating your hair salon you have some vision of it. At the very beginning you should also decide in what style you want to design this place, as it is crucial for the choice of furniture and other necessary equipment.

The most important furniture in every hair salon is a styling chair. This is where all the magic happens, so it should be perfect in every way. First of all, clients sitting in it should feel really comfortable as this is their time for relax. A cosy styling chair will definitely make them feel good and that is exactly what you are aiming for. The perfect styling chairs should also go with the rest of the furniture in the salon, as they are a part of the whole. But their functionality is also very relevant, as they need to help the hairdresser to do his or her job appropriately. It should be easy to turn the chair in any direction or adjust its height even with the client sitting in it.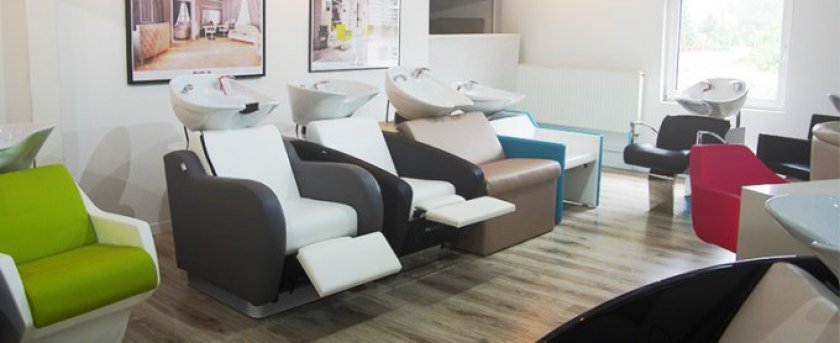 A styling unit, which creates a whole with the styling chair is also something that you need to take care of. It should go with the chair and be equipped with a big mirror, as it allows clients to watch the hairdresser in action. There are many different kinds of styling units, so you can easily find the one that matches the style of your hair salon. You may choose the unit that is installed on the wall or the standalone one.

The backwasher with a chair is another piece of equipment, which is really necessary in every hair salon. Many clients think that this particular part of the visit at the hairdresser's is the most pleasant. For that particular reason, you need to make sure that they won't get disappointed. The chair should be really comfortable, even if you will have to invest more money into it. Think about purchasing the chair which massages people, as this will definitely make your salon look a little bit more luxurious.

Of course, that is not all necessary equipment that you need in your salon. However, those are the most important elements of it, so you should look for the highest quality furniture of that kind.