Every hairdresser wants his salon to be the most beautiful and functional of all. The problem starts, when the room is limited and there isn't too much space left for décor. Fortunately, we have prepared a few easy tips that will help you design your salon with a great style. Even a tiny hairdresser's is able to make a BIG impact!

1. Think about storage design

Mess constantly makes a space look (and feel!) more chaotic and... smaller. That's why it is really important to have enough storage. Every cosmetic equipment must have its own place – then your staff will keep the space chic, tidy and clean. If your salon is small, you should choose smart storage solutions. Let's just mention shelves under stairs – the perfect example of how efficient the space may be used. You can put there salon accessories, additional retail products and even personal items. Remember: every meter counts!

2. Balance size and scale

When it comes to space planning, the right proportion between your equipment, furniture and space becomes one of the most crucial factors. Heavy, visually overwhelming furniture and cosmetic equipment are not welcomed in tiny hairdresser's. On the other hand, small space doesn't require only small furniture. Just add some mirrors and incorporating glass – trust us, light reflection makes true miracles! Such solutions will balance the larger pieces.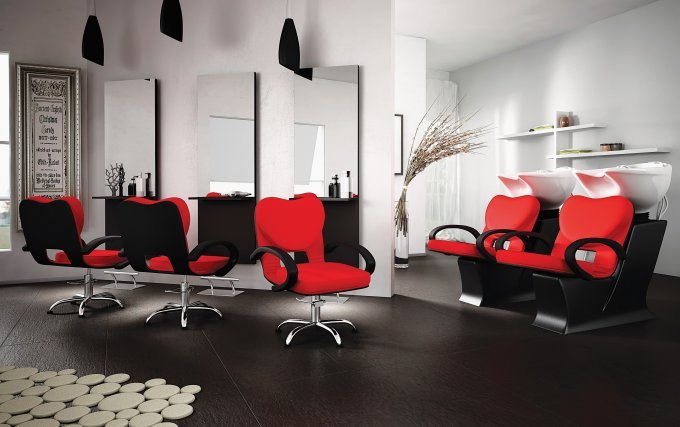 3. Minimalism and consequence

Long story short: try to keep it light and avoid darker colors. If you decide to use dark wood stain, the walls must be lighter to brighten up the space. Another great idea is to repeat furniture and finishes. Such consequence creates a cohesive, spacious design. Be careful: too many texture or colors give cluttered, confusing feeling!

4. Choose versatile furniture

Multi-functional equipment and multi-purpose furniture? Go for it! It is a key to maximize smaller areas. A great space-saving trick is to invest in wet booth stations (with a styling station and a built-in sink) and in regulated chairs with removable cushions.

5. Appreciate natural lighting

This is the best way to make a room feel more spacious. Pair both natural and artificial light with some reflective accessories and furniture. Believe us, the result will be stunning! Mirrors and glass pieces give a strong illusion of depth. Besides, take advantage of what's outside. Sheer window treatment provides the customers a privacy and allows the sunlight into a room.

P.S. Do not ever divide your tiny space by a wall! Try light curtains instead.